Beware, there's another company trying to steal your business and wanting to renew your domain name for outrageous prices!
I received this email from sender@m1.finaldomainnotices.com saying it was my final notice.
Finaldomainnotices.com is not my domain provider, and they should not be yours.
This is a Scam
UPDATE June 26: I received an email from namecheap.com as follows: "This is to inform you that finaldomainnotices.com domain was suspended. It is now pointed to non-resolving nameservers and will be nullrouted once the propagation is over. The domain is locked for modifications in our system. Thank you for letting us know about the issue."
UPDATE May 9: I just received another one under the name: InstantServicesNetwork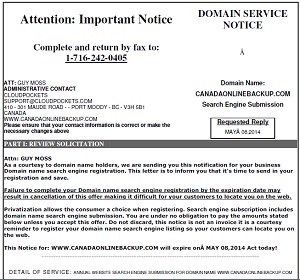 These guys send an official looking email that seems urgent that you may lose your domain name. They want to renew it for you for $75 a year! (my provider charges less than a third of that and there are cheap places that will do it for even less).
The subject of my email is: Domain Notification: GUY MOSS This is your Final Notice of Domain Listing – CANADAONLINEBACKUP.COM.
If you actually read the full email you will see at the bottom it says;
"Note that THIS IS NOT A BILL. This is a solicitation. You are under no obligation to pay the amounts stated
unless you accept this offer. The information in this letter contains confidential and/or legally privileged information from the notification processing department of the DS 3501
Jack Northrop Ave. Suite #F9238 Hawthorne, CA 90250 USA, This information is intended only for the use of the individual(s) named above. There is no pre-existing relationship
between DS and the domain mentioned above. This notice is not in any part associated with a continuation of services for domain registration."

Here's a link to a PDF of the full email I received: finaldomainnotices-com
Look Familiar?
This company is following along the lines of "Domain Registry of Canada" who do much the same but actually send you a notice and an envelope – physical mail.
They are both deceptive practices trying to steal you away from your legitimate domain registrar. Most of us don't really pay much attention to who we're registered with (I use Cloudpockets.com) so it's easy to respond, thinking that you missed something.
Stay With Your Provider
Don't react to this offer and send or fax anything. A quick research shows this domain was registered April 16, 2014. Try going to www.finaldomainnotices.com – it showed a blank page when I tried.
This is new, very new, probably newer than your website is!
If you have any questions about your domain contact YOUR domain provider.
You can also forward the email to abuse@enom.com to complain about this.