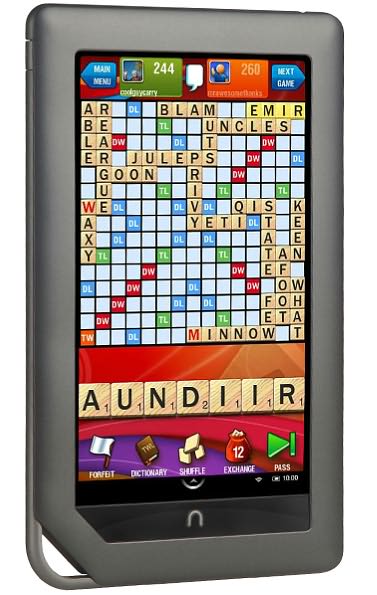 Monday, Barnes and Noble revealed their new tablet, called the Barnes and Noble Nook Tablet. It is interesting to note that B&N is calling this a tablet, not an eReader, the applications are certainly digital text focused as expected. It has a US price of $249. This is $50 more than Amazon's Kindle Fire, but for that, you get more than what Amazon offers. Or what any other tablet currently offers, for that matter. The Kobo Vox has been relgated to the back burner for now.
The Nook will be available November 18, and you can pre-order today.

Forrester analyst Sarah Rotman Epps projects Barnes & Noble will move between 1.5 and 2 million units this holiday season. If you are in the US you can order the Nook directly at the new Nook Tablet page. It is as yet unknown if the Nook is available in Canada along with the availability of the books and apps. All the Barnes & Noble eReaders and tablet are available on Amazon
as well.
The new Nook comes preloaded with Netflix, Hulu Plus, Pandora® internet radio, Chess, Crossword, Sudoku, Media Gallery, NOOK Friends™, Email.
The hacking community will be interested in both the Nook Tablet and the refreshed Nook Color. Expect to see a full Android OS dual boot coming soon. ZD Net thinks that some will even make the Nook Tablet software available on the Nook Color, a cheaper solution.
Barnes & Noble Nook Tablet Specifications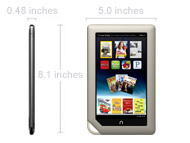 – Height: 8.1 inches, Width: 5.0 inches , Depth: 0.48 inches
– Weight: 14.1 ounces
– Dual-core 1.2Ghz processor with 1Gb RAM
– 7 inch touchscreen, 1024 x 600, 169ppi, 16 million colors
– 16Gb of memory
– MicroSD up to 32Gb
– WIFI 802.11b/g/n
– Web browsing with Adobe Flash and Parental Controls
– Email includes POP and IMAP
– Access to 2.5 million books
– Book formats: EPUB, PDF, XLS, DOC, PPT, TXT, DOCM, XLSM, PPTM, PPSX, PPSM, DOCX, XLX, PPTX
– HD Video (1080p)
– Video formats: MP4, Adobe Flash Player, 3GP, 3G2 MKV, WEBM (Video Codecs: H.264, MPEG-4, H.263, VP8)
– Photo formats: JPG, GIF, PNG, BMP
– Audio formats: MP3, MP4, AAC, AMR, WAV, OGG (Audio Codecs MP3, AAC, AMR, LPCM, OGG Vorbis)
[Sources:]