Heading out of the office for a few days on a business trip or vacation?
Here's how to turn on an Out of Office notification in Outlook.
Note: These steps are for when you are NOT using Office 365 or an Microsoft Exchange service. If you have Office 365 or Exchange then Click Here.
Why Out of Office Notifications?
It is a professional courtesy to advise contacts and potential customers that you are unavailable for a period of time, and they should not expect an immediate response to their emails.
It is better than the email sender wondering why they have not received a response to their email.
Set Up Out of Office in cPanel
If your email is included with your web hosting service like IntegratedLayer.com and you have access to the cPanel management site then Out of Office notifications can be set up there.
Setting up your Out of Office notification in cPanel is much easier than the steps shown below for setting this up in Outlook.
Login to cPanel, go to the Mail section, and click on Autoresponders

Then click on Add Autoresponder

Here's how to complete the following fields:
Do not change the character set.
Set the interval to 12 hours (people from the same email address will only receive one Out of Office notification every 12 hours, even if they email you more than once)
Enter the first part of your email address and make sure the domain name is correct.
Put your name or department in the From field.
In the Subject field put something that will get the attention of the sender, such as; "I am currently away from the office".
In the Body field you'll want to explain you are away, when you will be back, and who else to contact if it is an emergency.
Not sure what to say in an Out of Office message? Here's some ideas of what to say in an Out of Office message during the Christmas period.
You can either start right away, or set a date and time for the autoresponder to begin.
It is always good to set the Stop date to the morning when you get back, as you will likely forget to do this the moment you want back in the door.
Click the Create/Modify button when you are finished.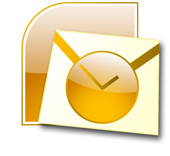 Set up Out of Office in Outlook
Note: your computer must stay powered on and Outlook running for an Out of Office notification in Outlook to work.
These steps apply to Outlook versions 2010 and up, including Outlook 2016.
Preparation
On the Home tab, click New E-mail. (or press CTRL+SHIFT+M)
In the message subject, enter your content such as "I am away from the office".
In the message body, enter the details, when you will return, and who to contact if it is an emergency.
Click File, Save As
In the Save As dialog box, click the dropdown type list and select Outlook Template.
In the File name box, type a name for your template, and then click Save.
You can now close the new email, you do not need to save it if prompted
(By default templates are saved in the following location: c:\users\username\appdata\roaming\microsoft\templates)
Outlook Setup
This rule set up has an immediate effect. You'll want to complete these steps when you are ready to leave.
In Outlook go to File, Manage Rules and Alerts.


Click on New Rule

Click on Apply rule on messages I receive, then click Next
Select "where my name is in the To or Cc box", click Next
Select "reply using a specific template", then click on the link for "a specific template" in the bottom window.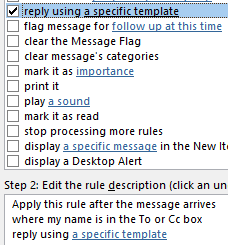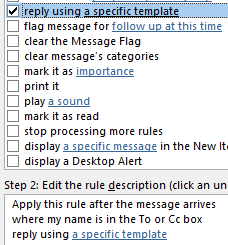 Change the "Look in" dropdown from Standard Templates to User Templates in File System.
Your newly created template should show up, click Open.



Back in the Rules Wizard, click Finish.
The rule is now in effect!
Other Important Tasks
You must make sure your computer will stay on!
You may need to adjust your Windows Power and Sleep settings
When you return you will need to un-apply the rule or delete it, so that senders no longer receive your Out of Office message.
Whew, it's a lot of steps!
Final Words
There's a lot of steps to making an Out of Office notification, if you are not using Exchange or Office 365, but it can be done.
Follow the steps carefully, and you can be comfortable that everyone who contacts you by email will be notified.