For today's distributed and virtual staffing NonProfits can use Microsoft Teams for NonProfits to manage and collaborate with their team.
This is made even more important with the COVID-19 pandemic, which for many has pushed their team out of the office to work from home and made NonProfits rethink their communications.
What Is Microsoft Teams?
Microsoft Teams is a application that is part of the Office 365 software suite. It brings together collaborative features from other software within Office 365 and makes it available all on one space.
One on one chats
Team chats and discussions
File sharing across the team
Host phone-in meetings
Microsoft Teams works with your computer, and your iOS or Android smartphone or tablet.
How To Get Microsoft Teams for NonProfits
Microsoft Teams for NonProfits is part of Microsoft Office 365 which for qualified NonProfits may be available free for up to ten users. After ten users you pay a reduced rate for the subscription.
In order to register for Office 365 for NonProfits you need to first be registered with Techsoup or TechSoupCanada.
You then confirm you qualify, and register with Microsoft here.
Microsoft Teams for NonProfits can also be used by organizations and individuals that don't have Office 365, find out more details here.
Chat
Microsoft Teams Chat let's you have one-on-one chats with people inside or outside your organization.
The experience is very similar to other chat programs and allows emoticoms. It also allows you to go directly to an audio or video call from the chat session.
One interesting feature of Teams Chat is the ability to easily share your computer screen via a Skype meeting. Note: This ability can be turned on or off by your administrator.
Tech Tip: In order for Teams Chat to work you must have the DNS entries for Skype and Teams in place.
Microsoft Teams
The Teams section of Microsoft Teams is a way for a team to collaborate on a project or a common discussion.
Multiple Teams can be set up and different people can be assigned to different teams. This allows you to create "channels" of discussion based on a common thread. Threads also ensure only the people you need are involved in the discussion so that this focused discussion is not lost in the midst of a general long thread.
By default only members of the same Office 365 domain as you can be members of the team. If you want to be able to create teams that include members outside your organization you will need to have your administrator enable Guest access.
Calendar
The Calendar section of Microsoft Teams gives you a direct view into your Outlook calendar so you can see and schedule calls and meetings with your teams directly.
Just click the time and date of when you want the meeting and complete the fields in the window, inviting other team members easily.
This is not a separate calendar for Teams, so you will also be able to see this entry in Outlook and on your smartphone and other devices. In my experience you will still want to use the standard Outlook calendar, as this view of the Calendar does not provide all the same options.
You can also create Live Events from within the Calendar section. Live Events are online events that you can stream to large audiences.
Calls
The Calls section of Microsoft Teams is exactly that; a way to make calls both one-on-one and conference style calls via Skype.
By default it will search your Contacts list you have in Outlook for people to call.
You can add contacts you work with frequently to a speed dial list. Simply click the Contact menu and right-click on any contact you want to add.
The Make A Call section lets you quickly add one or more contacts then select whether you want a voice, or video call.
Calls also has a Voicemail feature and you can leave a message if a team member doesn't answer. Messages show up in the Voicemail section of Calls. Your Voicemail greeting can be changed from Skype.
Files
The Files section of Microsoft Teams is a way to you to access and work with your cloud based files.
Files will default to your personal OneDrive files, but Organization wide Sharepoint files can be included.
At the bottom of the Files section you have the option to also add storage from other cloud drives such as Google Drive, Dropbox, and Box.
The Teams section of Files let's you see all the files that are associated with the Teams you work with.
Tech Tip: You will notice that the OneDrive view also has the Sync option. Clicking this will create a local folder where you can work on OneDrive files directly. Any changes will be sync'd back up to the cloud in the background.
Microsoft Teams Apps
Teams also allows connectors to other cloud applications. If you click the three dots on the Teams menu a short list of Apps will show up. You can search to quickly find a particular app you work with.
Some Apps you may already work with are; Asana, Adobe Creative Cloud, Egnyte, Salesforce, Trello, Zoom, Smartsheet, Zoho, and Evernote, just to name a few.
It looks like there are currently over 200 Apps available to choose from.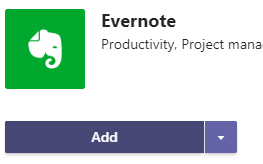 Adding the Evernote App, for example, will add Evernote to the search bar at the top of Teams, where you can search for files.

You can click the file name to go directly to that file, or copy the link to the file so that it can be used in a chat, or team, or anywhere else in Teams.
Zoom on Teams?
Zoom, the most popular video application right now, can also be run from Teams. If you add this App you can start, schedule, and join Zoom meetings from within Teams. This way to can continue to use Teams internally and Zoom for external meetings with people who are currently not using Teams.

There's a lot of different features within Microsoft Teams and in this article we have really just scratched the surface with an introduction. It should however give you an understanding of the capabilities.
If you already use Office 365 then it is likely beneficial to look into using Teams for your distributed workforce. It's an easy to work with system and keeps all your activity within a central ecosystem; the Office 365 environment.