Adding your personal DVD's to the AppleTV adds convenience
If you're not inclined to hack your AppleTV 1G but still want to play your personal DVD's through it, this can be done with a little time and some special software.
Once you're done you'll never go back to digging out DVD's again.
Jan 2011 Update
: This article refers to the AppleTV 1G. The AppleTV 2G has no hard drive and is a streaming device. There is, however, an
ATVFlash
hack in the works, currently in Beta. Stay tuned!
[This is a companion article to: How to use AppleTV with Windows]


Software You'll Need
AppleTV will not play DVD's directly, they must be converted to a format AppleTV recognizes. You'll need three pieces of software for your Windows PC to make this happen.
DVD43 or DVDSmith enables you to "rip" or copy your files from the DVD to your hard disk so you can work on them. Handbrake converts that copy to something the AppleTV can use. iTunes (which you probably already have) allows the AppleTV to see and play them.
Copying your DVD's to your Windows hard disk
Windows will not allow you to copy a DVD by default, due to DRM (Digital Rights Management) which is on all commercial DVD's so you need a program that can bypass that DRM.
DVD43
DVD43 is a free DVD dycrpyter that bypasses most encryption techniques and allows you to copy the files.
The first step is to allocate some hard disk space, maybe using an external drive. Count on 4Gb per movie.
Once DVD43 is installed it sits in your Task Tray as a little yellow smiley face
.
When you insert a DVD into your computer it will automatically try to read it and crack the DRM.
If everything is good you'll see the happy face
.
Now if you open My Computer you will be able to see and copy the contents of your DVD. You only need to copy the VIDEO_TS folder, which may take 15-30 minutes. Create a temporary folder on your hard drive for the DVD copy, which can be deleted once the conversion is done.
DVDSmith (64-bit OS)
I've recently moved to Windows 7 64-bit and unfortunately DVD43 will not run on that platform. I found DVDSmith and have been pleased with it so far. The Process is slightly different; you select your DVD drive as the Input Source, select your Movies Folder as the Output Folder and click Start Backup. DVD Smith with copy your DVD to your movies folder and you can use Handbrake from there.
Convert your copied DVD files to AppleTV format
Once the disk is on the hard drive we use HandBrake to convert the file from DVD format to MP4. Handbrake is easy to use as it has a preset configuration for AppleTV.  It is available for both Mac and Windows. You can use Handbrake's default preset with little noticeable difference, however we have the disk space so we try to get the best quality we can within Apple's 4Gb file size limitation by tweaking the parameters on the video tab, Target Size = 3800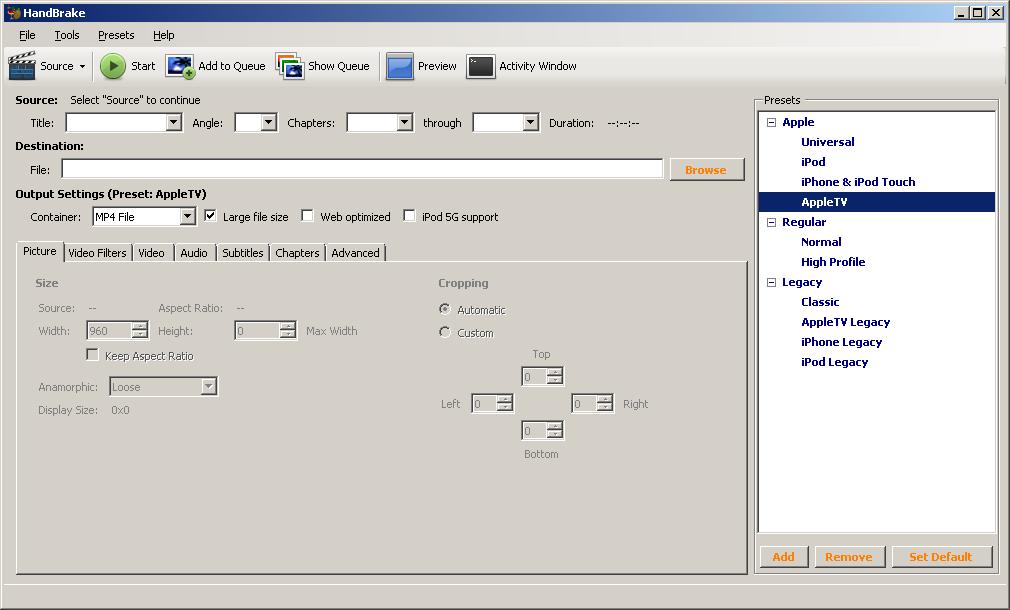 A Handbrake conversion can easily take an hour, so add three or four movies to the Handbrake queue and let let them run overnight.
Note: A DVD optimized for AppleTV will not play on your iPhone or iPod Touch unless you use Handbrake's "Universal" preset, which may result in lower resolution movies.
Add your Converted Movies to iTunes
Once a DVD is in MP4 format, go to your iTunes and select the movies category, then select File, Add File to Library and select your converted file. The movie will appear on the right and if iTunes can find the album artwork it will show up.
Adding Movie Artwork
More often than not iTunes will not find Album Artwork for your movies so you will have to go get your own. To do this  use CDCovers. Find your DVD and copy the picture to your movies drive. You may want to create a folder for this called MovieCovers. Then from within iTunes, right-click on the movie and select Get Info. Move to the Artwork tab and click Add. Select your album artwork and now it will show up both within iTunes and on your AppleTV
Adding Movie Comments
Another nice feature is to add comments to your movie. Comments show up under the DVD Jacket on the AppleTV. To add these comments go to the list view in iTunes and add your text to the Comments column. You can sometimes get good movie text from the Internet Movie Database IMDB.com.
Watch Your own DVDs on your AppleTV
Once your movie is showing within iTunes you can now view it through the AppleTV by selecting it from the My Movies menu option.
Sit back, grab the popcorn and enjoy!