[This is a reposting of an article from Alarm.com]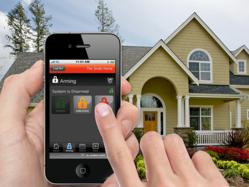 Vienna, VA (PRWEB) February 02, 2012
According to the Federal Bureau of Investigation, a home robbery occurs every 12 seconds. While there are multiple security system options available in the market today, Alarm.com offers five reasons why a wireless home security system is the superior option when it comes to providing homeowners with the peace of mind that their homes can remain safe, secure, and connected at all times.
1. Easier to install A wireless interactive security system is much simpler to install than a traditional wired system. For starters, theres no hassle with running wires and the chances of drilling holes into walls, ceilings, woodwork or concrete are slim. The installation of a wired system can be time consuming and invasive. Also, when choosing to go wireless, the motion detectors, door and window sensors and other equipment products are easy to place wherever you want to keep track of activity.
2. Offers flexible options For decades, even dating back to the old tin can systems, security systems have often been a purchase that only property owners could justify. Not today; wireless systems are so convenient to set up that even as a renter the assurance that your residence is secure with a top of the line system is available. Plus, theres an added benefit of easy portability enabling homeowners and renters alike to take the complete system with them when moving to a new location. With a wired system, if moving, youre out of luck.
3. Less vulnerable Traditional wired home security systems expose the consumer to significant vulnerabilities associated with the power grid, phone lines, or Internet connections. That means whenever theres a line cut or power outage a wired system becomes inoperable. Wireless security systems are not vulnerable to such scenarios and also have battery-power back-up that continues to keep the home secure even when the power is out. Not only are wireless systems resistant to savvy criminals cutting phone and power lines, some also protect against crash and smash attacks and are able to still alert professional monitoring stations even if the security panel is damaged or destroyed.
4. Provides a platform for whole home solutions Wireless systems utilize wireless communications over dedicated, secure networks making them ideal for both homes and vacation properties without a landline. Due to the technology used, most wireless security systems also offer activity notifications and system alerts that keep you aware of whats happening at the property. Today, there are even options to control a homes lights, temperature and door locks through the security system. Home automation and integrated video monitoring can all be options with a wireless interactive security system. Plus, youll likely find that youre able to control all of those features from free mobile apps as well.
5. Simple to troubleshoot An added benefit of wireless systems is that if there is an issue that needs attention, it can most frequently be identified and fixed by the installer remotely. Over-the-air system tools enable quick troubleshooting access to the system to find the cause of the problem, without even needing to schedule a technicians visit. Also, many wireless alarm systems do their own troubleshooting and pro-actively notify you of the problem component, such as low battery alerts for wireless sensors.
A home is a sanctuary, a place to go at the end of the day to rest, find comfort and have peace of mind. When considering the type of security system to keep your home secure and connected, keep the advantages of a wireless alarm system in mind.
About Alarm.com

Alarm.com, founded in 2000, is the industry leading technology provider of interactive security solutions. Through advanced wireless monitoring, mobile and web-based services, and a proven hosted services platform, Alarm.com helps protect hundreds of thousands of residential and commercial customers throughout the United States and Canada. Alarm.coms products and services are offered exclusively through a network of over 2,500 licensed and authorized Security Dealers. Alarm.coms headquarters is located in Vienna, VA. For more information, visit http://www.alarm.com.